CLUB LATE MUSIC x GLOBAL URL NATION
PRESENT


THE GREAT SLEEP
The Great Sleep is a series of 13 narrative audio mixes that will be aired on Internet Public Radio every first Thursday of the month from December 2019 to December 2020. For each episode, a musician and a visual artist from the Global URL Nation collaborate to develop the story with audiovisual material - a 1h mix and a visual cover, which then serve as a base for written text. Each month, we will post a new chapter meant to be heard, seen and read.



[Listen on Internet Public Radio]
[Listen on soundcloud]
---
E01 - The Dawning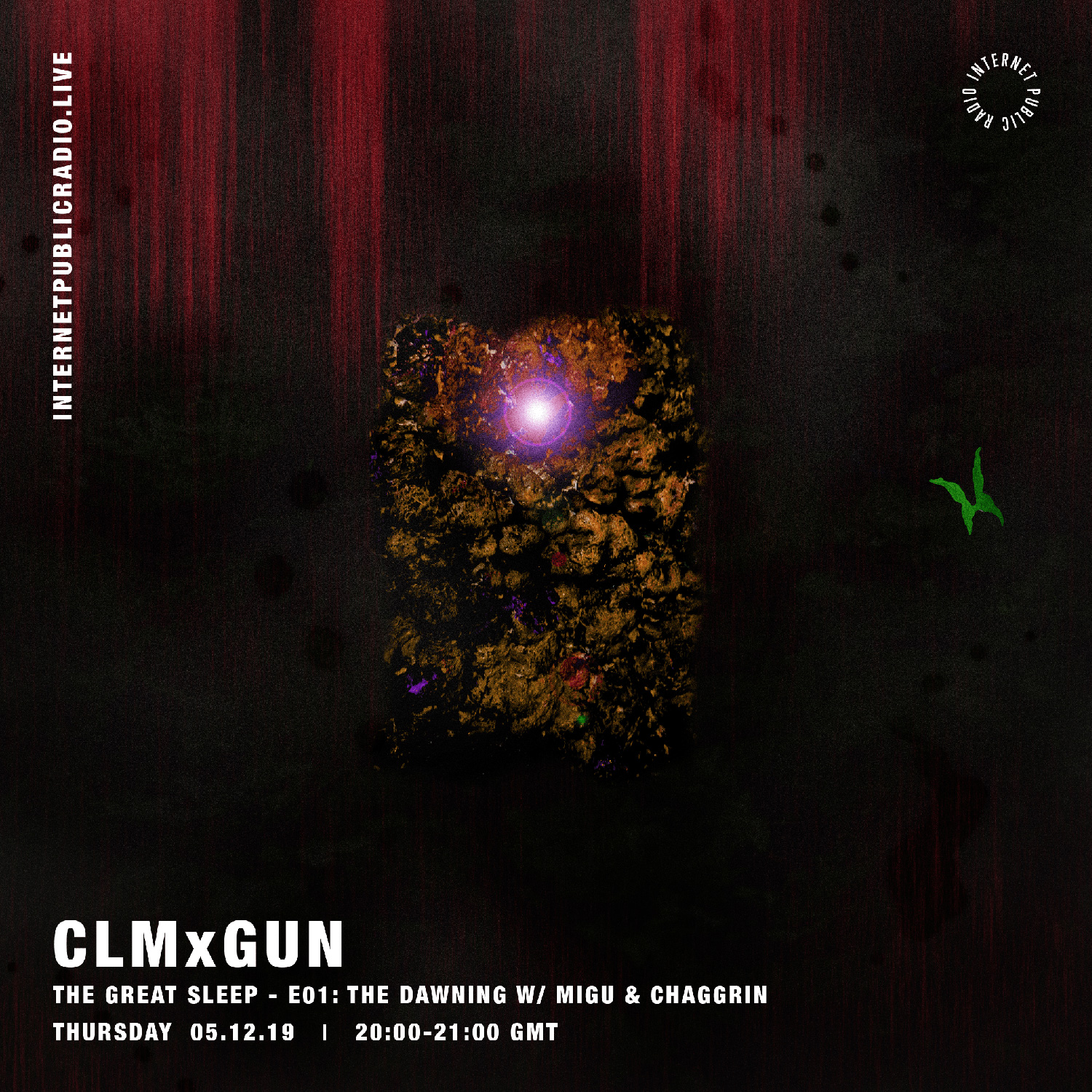 This clumpy sand on which my body wakes up seems to digest me bit by bit. The fluid and crystalline rustling of the river's water shudders at the edge of my eardrums. It is then that my eyes open and my senses cling to the sensitive environment that unfolds around me.

"You have to find GUN ..."

I am attached to this sticky mud by my thoughts, my eyes are prisoners of this gray and heavy sky, puffy and indigestible sky, which spreads out infinitely in front of me. I lie down by the edge of the water, totally lost, totally sounded.

I search the most remote parts of my memory and face some diffuse shots: images of happy silhouettes, feelings of warm smiles, bursts of laughter, the welcoming feeling of an arm that embraces you and then ...

"Wake up... wake up! "

I continue to sink into the synaptic limbo of my consciousness before stumbling, losing the thread of this carousel of images that breaks when I fall into the cold space of my memory where everything fades, interrupts, stops in a new dark and unknown territory.

And there, a song... in my head.

Suddenly, I come back to myself, like when you come out panicked from a dark dream and anxiety, with a tight chest, the heart propelling in your ears bursts of blood that swell your brain and stun you.

I stand on my elbows, the body soiled by the spray of this marsh in which my members are rooted. The water of this river flows without caring, like the time flowing in the veins of life. I do not know what strength helped me to get up, despite the smothered cries of which my bones seemed to cast off, to the image of a burned skin which one takes off from your nerves, like the imagined pain that you feel, strident, when you tear off your heart.

My most primary faculties seem suddenly absorbed by everything else, by this magnetic vanishing point of a long road that appears in front of me and gulps me by its lost attraction, erasing from my head all perspectives of inverse movements. I feel hypnotized by this rectilinear and perfect length, enchanted by the horizontal line that invites me to take this journey, this landscape, beyond.

"I'm scared, I just want to leave ..."

I move my flesh a little and free my weakened eyes from this enchanting path before trying to immerse myself in my memories. I close my eyes and feel nothing. Only the dreary taste of a hollow silence envelops me and awakens me with its own breath, itself inflicted with the dissonant melody of nothingness. I try to blend into this void to get through it and suddenly discover the fuzzy reflections of a reliquary of erased memories that I thought having seen a few minutes ago. This time, nothing's happy. No, I only feel the roar of incomprehension rising in the ruins of my languid mind. I hear echoes of memories and details that someone told me : noises, words, phrases, warnings.

" It is not too late… "

The smooth and intoxicating exaltation experienced when I wake up gives way to a sadness that is engraved on the cliffs of my memory. I only feel ghostly thoughts in which a dense fog interferes, curbing my reason, stopping briefly the clear and distant resurgence of a noise that fades to come sleeping inside me. All this emptiness stands like a chaos, I lose myself, I see myself dying.

" No ! "

I suddenly breathe, electrocuted by that voice oxidized by the time that extricates me from the abandonment. I feel myself inflicted again with life, whipped by the clear injunction of this howling that brings back to this river, to this breeze, to this road in front of me. I look at it, straight and infinite, built by the past, the present and the future. This road invites me to follow the path, I believe, of my destinies.
>>